The Scalloped Fingerboard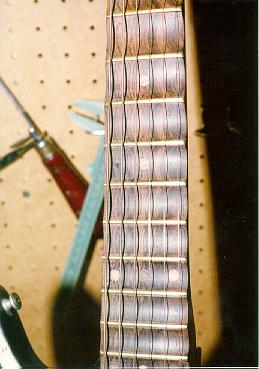 Scalloped guitars are not new. Steve Miller used one in the 60s and John McLaughlin began using one in the 70s. I had first seen and played a scalloped Stratocaster in 1980, which belonged to an acquaintance. Swedish heavy-metal guitarist and all-around asshole Yngvie Malmsteen is a vocal proponent of the scallop and for a short time Fender even manufactured a Malmsteen signature model strat with a scalloped fingerboard, which so far as I know is the only scalloped guitar to be mass-produced.
My immediate inspiration for building this guitar was an article in Guitar Player Magazine which ran in the autumn of 1986. The article discussed some of the advantages of the scalloped fingerboard, as well as some of the disadvantages. It also suggested that scalloping was a major and potentially dangerous undertaking that should only be performed by an experienced guitar builder. I couldn't afford to have someone make one for me, so of course I had to see if I could do it myself. The old 'trash can' guitar seemed to be the perfect specimen with which to experiment. I experimented with several techniques for cutting out the fingerboard between the frets, including chisels, knives and various combinations of rasps and files, before determining that a round or half-round rasp was the tool most likely to get the job done within my lifetime. It took about two weeks, working off and on, to fully scallop the neck. I followed the heavy cutting with heavy sanding. The rasping and sanding tore the frets to bits and, according to the article, at this point I should have had the neck refretted. Lacking to tools to attempt that I just did some marginal clean-up and smoothing with fine emery papers. The rasp had also torn out the fingerboard and side position dots. I replaced them with cheesy dabs of red nail polish on the sides of the neck. I stuck on a nut from another cheap guitar... it buzzed horribly so I shimmed it up with pieces of card stock. Some strings also had their own, individual shims.
So, just what are some of the advantages of playing a scalloped guitar? Well, that's an extremely subjective question. People either love it or hate it. I feel that it is much easier to play. It takes getting used to, but once past that hurdle I find it feels very natural... whenever I play one exclusively for a few weeks I begin to find it difficult to recall just what a non-scalloped fingerboard feels like! Many players report an increase in speed, and many feel that you can play with a lighter touch, since contact with the fret is more positive with less pressure. Without the friction of the fingerboard under the strings, bends are easier, and pull-offs come naturally. My own style of playing utilizes a lot of what I call 'wobbling' (slow finger vibratos) and you can have a lot of fun doing stuff like that on a guitar like this.
Bottom line? You need to try it for yourself. I encourage y'all to do so!